TeraVolt is now hosting the HbbTV app used by the children's series "Sendung mit der Maus" / WDR integrates SmartPages as a system for format extension.
Hamburg, September 2nd, 2021 - German TV station WDR now uses TeraVolt's operating system SmartPages to maintain its HbbTV application for the "Sendung mit der Maus" (=" The Show with the Mouse"). This is a very popular German TV program for kids, which utilizes a concept similar to Sesame Street. Since 1971, it is being produced by WDR, which is part of ARD, a joint, public tv network that covers all of Germany.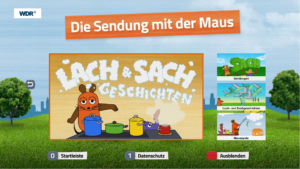 With the "Maus"-app, viewers have access to all mouse and elephant related content (whether in the form of video or audio) on their own smart TVs. WDR had launched the app in April 2020 and has now made a system update.
In this context, TeraVolt was able to impress the responsible parties with its SmartPages product. SmartPages is an all-in-one solution for the creation, production and display of interactive accompanying formats for TV programs. Some of TeraVolt's customers already use the product to manage their advertising campaigns. However, WDR is now the first customer to book SmartPages as a pure client system, i.e. exclusively for accompanying formats.
"We are very pleased to support the "Sendung mit der Maus", a tradition in the German television industry, in the area of HbbTV. This is a real milestone for our SmartPages product and a prestigious stage on which we can show how powerful the system is," says Oliver Koch, Managing Partner and co-founder of TeraVolt. "It makes us proud that WDR has expressed its confidence in us for this task."
+++
Visuals:
Portrait Oliver Koch (Credit: TeraVolt)
Maus-App Visual #1 (Credit: WDR)
Maus-App Visual #2 (Credit: WDR)
About TeraVolt:
TeraVolt GmbH is an owner-managed agency for enhanced TV, based in Hamburg, Germany. Founded in 2006, TeraVolt specializes in the development of pioneering digital TV experiences. The agency provides its customers with tailor-made solutions, from market-specific consultation to the creation and technical implementation of innovative products. Its product portfolio includes services, consultation and applications in the areas of Managed Platforms, Enhanced TV, Monetization and OTT. With a headquarter based in Hamburg's beloved Schanzenviertel, TeraVolt consists of a highly experienced management team and 45 strategy, product and technology experts. https://www.teravolt.tv/en/
Press contact DACH:
Agentur Frau Wenk +++ GmbH
Tel. +49 (0)40 32 90 47 38-0
Mail: Teravolt@frauwenk.de