Hamburg, May 25th 2021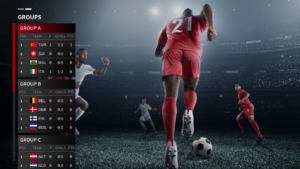 Multi-brand TV manufacturer Vestel has announced the launch of a new app that will allow soccer fans across Europe to immerse themselves in every major match and tournament, including the upcoming European Championship. The Football Corner app was developed in collaboration with agency and app developerTeraVolt and its AI-driven product TVXRAY, and is available now on all smart TVs manufactured by Vestel, including those for brands such as Toshiba, Hitachi, JVC, and Telefunken. The app is a particularly convenient and interactive companion to watching soccer, offering a filtered electronic program guide for up to seven days in advance, as well as real-time updates, insights, and statistics on matches and tournaments.
TeraVolt GmbH, which built this OTT experience based on its TVXRAY product, is responsible for the concept, implementation, and maintenance of the app.
The app will be available on about 10 million Vestel devices in 55 countries. TeraVolt's goal is to improve the user experience on the TV as first-screen in such a way that the second-screen (usually the smartphone) becomes superfluous. Viewers can call up a wealth of additional information on the current match, the individual team performances, and the groups at any time in the app, giving them a better overview. An approach with which the TeraVolt managers were able to fully convince Vestel.
"I am very proud that Vestel was so taken with our TVXRAY product. Now we have the chance to offer soccer fans all over Europe an all-around successful gaming experience with our app," says Tobias Künkel, Managing Partner at TeraVolt, who is leading the project.
Tobias Fröhlich, Co-Founder and Managing Director at TeraVolt, adds, "The concept of the second screen is outdated. We firmly believe that all the information and details viewers might want should always be available on the first screen. And smart TVs are ideally suited to meet these requirements and make the second screen obsolete."
"The timing for the launch of the app, just before a major tournament, couldn't be better," said Barış Altınkaya, Deputy General Manager of Marketing and Product Management, Vestel. "With this app, soccer fans no longer have to worry about missing even a second of live sporting action. The interactive match guide makes it easy to keep track of all the games, while real-time information and statistics help immerse you in the tournament action. With our latest 43", 48", 50", 55", 65" and 75" frameless big-screen TVs, everyone at home can also watch the latest soccer analysis on the big screen."
About TeraVolt
TeraVolt GmbH is an owner-managed agency for enhanced TV, based in Hamburg, Germany. Founded in 2006, TeraVolt specializes in the development of pioneering digital TV experiences. The agency provides its customers with tailor-made solutions, from market-specific consultation to the creation and technical implementation of innovative products. Its product portfolio includes services, consultation and applications in the areas of Managed Platforms, Enhanced TV, Monetization, and OTT. TVXRAY is a new product that provides interactive TV in a live broadcast OTT environment.
With a headquarter based in Hamburg, TeraVolt consists of a highly experienced management team and 45 strategy, product and technology experts.
About Vestel
Comprised of 28 companies, Vestel Group is a multi-industry manufacturer that operates in consumer electronics, home appliances, professional displays, LED lighting, and EV Chargers. Testimony to the global importance of Zorlu Holding across multiple technology sectors, Vestel is not oly thriving at home in Turkey, but also through a further 10 subsidiaries that have been set up in various other parts of the world. Thanks to its renowned manufacturing and R&D complex, Vestel exports to 157 countries and keeps its position as a global player.
More information: www.vestelinternational.com