Foto: Kon Karampelas (Unsplash)
Hamburg, 19 March 2020 - Netflix in front of Disney and Amazon: The video-on-demand platform Disney+ will have as good a user experience as Amazon Prime Video at its German launch on 24 March. However, the mouse company is still a long way from the industry heavyweight Netflix. This is the result of a large-scale study by TeraVolt GmbH, in which they analyzed various streaming services in 28 categories for their user experience.
In this study Netflix scored 83 out of a total of 100 possible points, followed by Amazon Prime Video (68) and Disney+ (67.5). The streaming service Apple TV+, which was only launched in November, is lagging behind with only 49 points.
Disney+ scores particularly well in administration, which includes the management of login data and subscriptions. Here Disney achieves 95 percent. Content Discovery (83%), for example the presentation of content and autoplay, as well as personalisation (74%) and performance (79%) are also in a very good range for newcomers. However, there is a backlog demand for video playback (69%) and cross-device use and downloads (68%). As a result, Disney+ is on a par with Netflix only in the administration and content discovery clusters, but clearly lags behind in all others. On the other hand, Disney leaves at least Amazon Prime Video behind in terms of personalization and content discovery.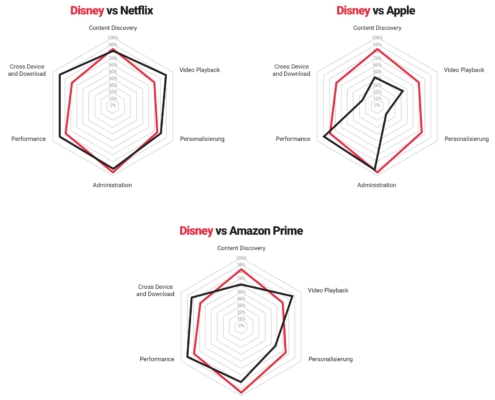 In its study, TeraVolt examined and compared a total of eight streaming services. The German and European services Joyn and SKY were successful, but could not keep up with the budgets of American companies. Nevertheless, the performance of Joyn was particularly noteworthy. The young streaming service scored particularly well in terms of administration, but also in terms of performance, explains TeraVolt managing director Tobias Fröhlich: "Joyn has only been on the market for just under a year and Prosieben.Sat.1, unlike Netflix or Amazon, has only limited financial possibilities. Taking these circumstances into account, Joyn is doing well and has created a great perspective for the future. Sky has also done a lot for the user experience in the past few years, but in comparison it still has some catching up to do".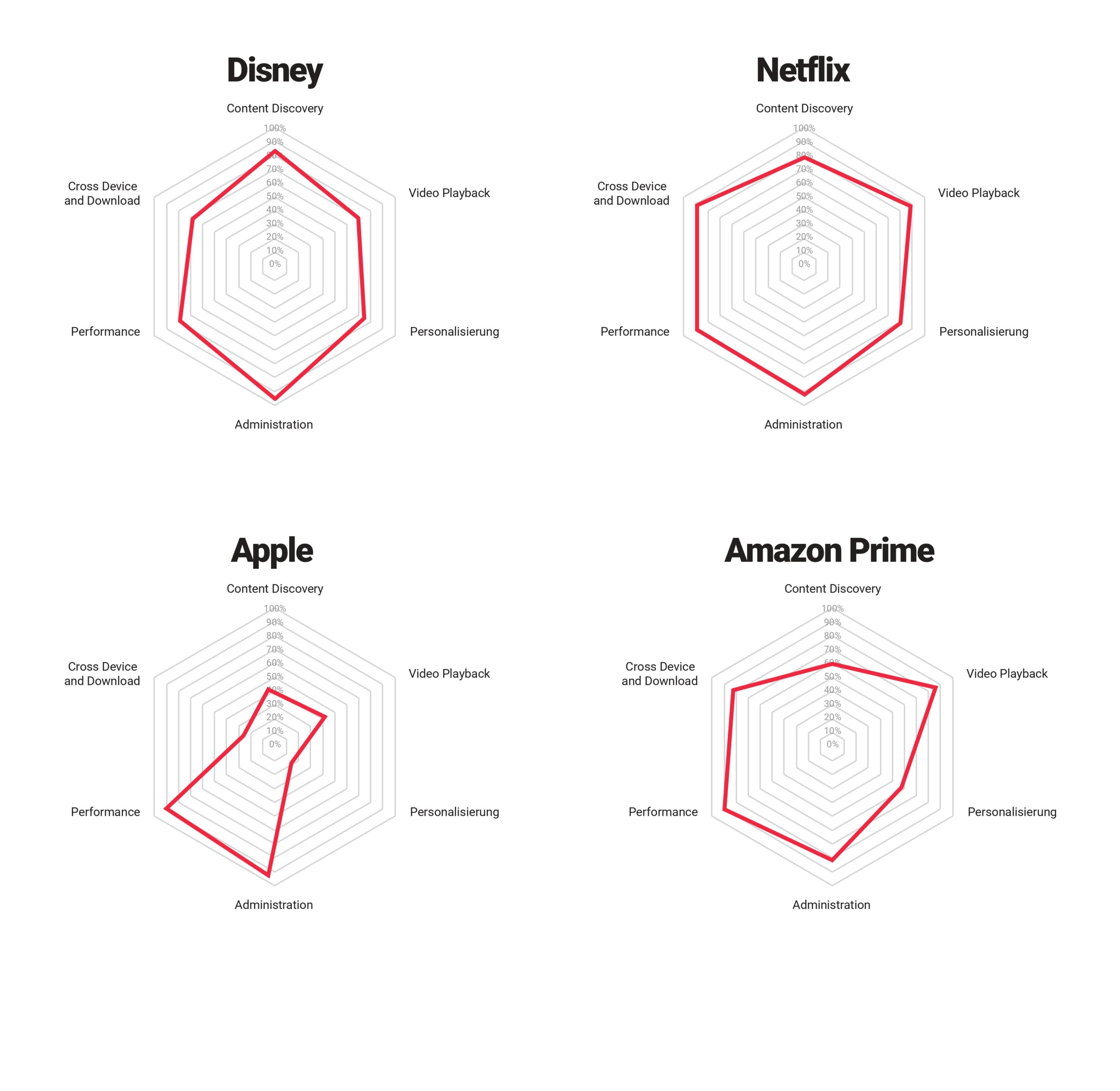 The loser of the study is clearly Apple TV+. This is particularly bitter for the former showpiece company in terms of usability. For example, in the areas of cross-device use and downloads as well as personalisation, the Apple Group leaves its users alone, as long as they do not use the service on an Apple device. But then perhaps that is also business policy to boost hardware sales.
About the methodology: TeraVolt subjected each of the streaming services to a practical test and evaluated them according to 28 different criteria that can be assigned to the superordinate categories of performance, content discovery, video playback, cross device & download, administration and personalization. The results refer to the desktop version in the Internet browser or the respective smartphone app.
About TeraVolt:
TeraVolt GmbH is an owner-managed agency for digital TV products and consulting based in Hamburg's Schanzenviertel. Founded in 2006, the company specializes in the digital transformation of television. Together with its customers, TeraVolt advises and develops tailor-made solutions - from the initial idea to innovative products in operations. The portfolio includes services, consulting and finished products in the segments Managed Platforms, Enhanced TV, Monetization and OTT. The TeraVolt team consists of four experienced managing directors and 45 experts in the areas of product, strategy and technology. https://www.teravolt.tv/