Hamburg, June 12, 2023 - 500 motocross riders, 30 kilometers of track, four hours of racing and only 17 riders at the finish line. The Red Bull Erzbergrodeo at Austria's Erzberg is the toughest motocross race in the world. The riders must pass 27 checkpoints in an active iron ore mine. It automatically leads to an opaque racing action. In cooperation with its long-term partner Red Bull Mediahouse, TeraVolt provided viewers with a visually even better race experience in front of the various screens with a variety of digital enhancement features, thus introducing a new form of coverage.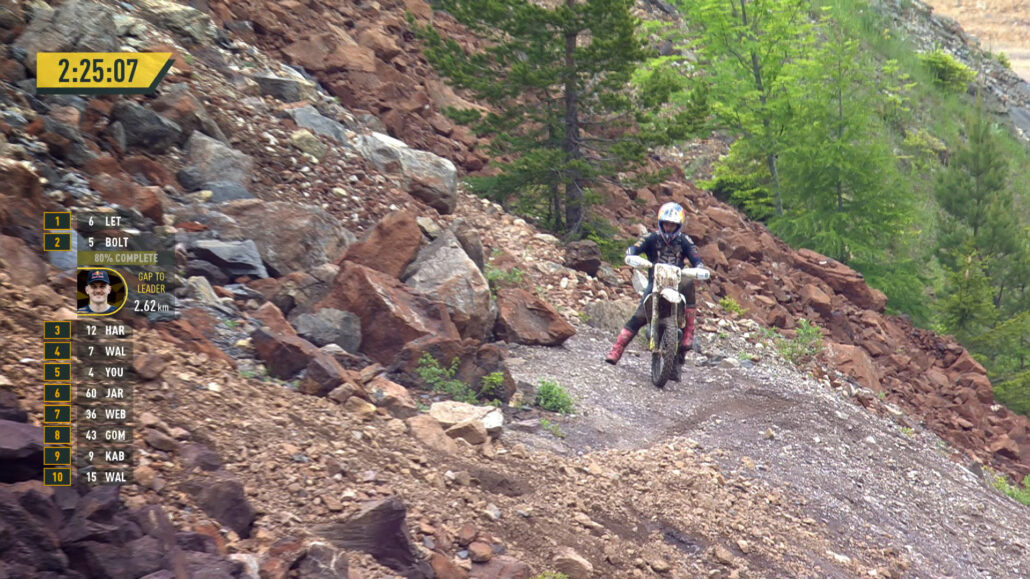 During the long race, it is often unclear at which point a driver has caught up or lost positions. Where were there key points? Where was the race decided? TeraVolt´s task in developing the technical and editorial workflow was to determine drivers during the race. Besides the positions, it should also be possible to quantify the performances based on tracking data and thus determine the driving skills on the track. The data had to be integrated into the workflows of the television broadcast and aggregated and visualized for editorial storytelling in an appealing and comprehensible way. 
A particular challenge was to determine the drivers positions live and process them in real time and make them visually visible. The local conditions make this almost impossible, as the network coverage is poor because of the large and mountainous area. In addition, the route is not finalized until a few hours before the race, and the athletes sometimes travel at very high speeds in the terrain. 
For these challenges, the TeraVolt team, in collaboration with various technical service providers, identified and implemented a technology for data measurement and connected it to the data interface used. The main task was to reduce the latency to a maximum. In parallel, the ideation and the creation for the visualizations during the pre-show and live show of the TV broadcast took place. 
For this purpose: augmented reality and virtual reality: TV graphics were developed to get especially young target groups excited about the broadcast and the sport. Besides the visualization of the performance data, great importance was attached to the visualization of track highlights and special - key points to bring the challenges closer to all viewers and to bring clarity and transparency to the racing action. 
In the Red Bull TV app, all information could also be experienced individually via an independent augmented reality mode. Live generated and KPI aggregated data from Erzbergrodeo 2023 was so brought to life.
This innovative approach, developed by TeraVolt allowed viewers worldwide to experience motocross action unprecedentedly.
AR mode in the mobile app